Renewable energy stored as hydrogen – Power to Gas
Hydrogen technology is the solution for intermediate storage of surplus energy from renewable solar power, to ensure stable delivery of electricity 24/7. Renewable hydrogen plants can also be installed fully or partly off grid.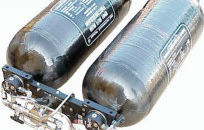 Next Generation goes off Grid
Hydrogen has no "best before date" and when energy is needed hydrogen is piped to a fuel cell for creating electricity and heat. Water that was split for storing of hydrogen is restored at the same time as electricity is delivered by the fuel cell. In a way, this water has a negative footprint as it is cleaner than it entered the electrolyser.